We provide Home Building Inspections for your Peace of Mind
We are an independent home building inspection company specialising in inspections for new and existing homes. With over 30 years experience in both residential and commercial constructions we have a good eye for detail. In addition, we have extensive knowledge of all the current Building Standards, Acts and Regulations. In addition, we are a proud member of The Master Inspector Association of Australia. This means you are assured that we abide by their strict code of Ethics.
We are also a Registered Building Practitioner. In fact, we are classified as 'Domestic Builder Unlimited'. This means we can carry out and manage all the components of domestic building work relating to the construction, renovation, improvement or maintenance of a home.
By being a Registered Builder it means we have practical experience when it comes to building inspections. As a result, we understand where problems in a build are most likely to occur and how to identify them. It means nothing gets past us!
At New Home Building Inspections we specialise in inspecting all stages of construction. This includes slab inspections - which are one of the most popular inspections we do. Our role is to assist in identifying defects - potentially saving you from costly repairs if issues go undetected.  Reports are available within 24 hours. We are fully insured.
The Building Inspection Process
Contact us on  1800 466 424 send us a message via email to arrange your home building inspection

We then liaise directly with your Builder / Estate Agent to arrange a time for the inspection

We carry out the inspection, which you are most welcome to attend

A detailed report is provided to you within 24 hours (or earlier if needed)
New Home Building Inspections
The best way to protect your investment in your new home is to have a new home inspection carried out. This ensures that all work has been completed to an acceptable standard before you move in
Usually a new home building inspection is carried out when your builder is finished a stage. This includes slab inspections, house frame inspections, pre paint inspections, lock up inspections and pre handover inspections). We identify any defects in your new home, as well as any non compliant issues.
Our rates start from $300 (inc GST)
We do our concrete slab inspections in two parts. This is to make sure you get the foundations of your home right from the start. The first part is done BEFORE the concrete is poured. This means if there are any issues at the preparation stage, including steel reinforcement and boxing, it is picked up before the concrete is poured.
The second part of our inspection is done AFTER the concrete is poured. For this part of the inspection we focus on making sure the floor is straight and level and in accordance with the floor plans.
Our rates start from $300 (inc GST)
Pre Purchase Building Inspections
Our pre purchase building and pest inspections provide peace of mind. It will also potentially save you a lot of money. You can choose to have either pre purchase building inspection or pest inspection or both.
With a pre purchase building inspection we identify all major issues, (including any structural issues) as well as smaller defects for you. Our pest inspection ensures that you are made aware of any pest infestations - especially termites.
Our rates start from $250 (inc GST)
Swimming Pool Inspections
Swimming pool inspections are now mandatory every four years in Victoria. The first step is to register your pool with your Council. If you fail to do this you face a fine of up to $1,652.20.
As Licensed Inspectors with the Victoria Building Authority we inspect  your swimming pools to determine if it's safety barrier is compliant. We then issue a Compliance Certificate or advise what needs to be done to ensure your safety barrier is compliant.
Our rates start from $330 (inc GST).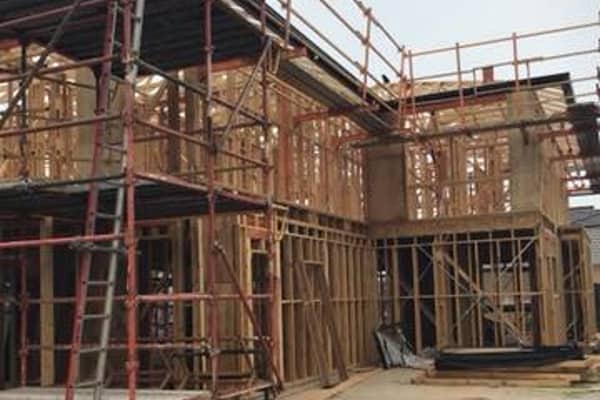 A house frame inspection, is done when the wall and roof frames have been completed. All house frames must meet the standards set by the relevant Australian standards.
The standard is in four parts. It covers design criteria, building practices, tie-downs, bracing and span tables for timber frames. We always ensure that your house frame meets all four parts of the standard
Our rates start from $300 (inc GST)
VCAT & Dispute Resolution
It is a stressful time when your new home has building defects.  Unfortunately it is not always possible to resolve the dispute with your builder directly. This means you have to escalate matters to the Domestic Building Resolution Victoria (DBRV) or even  (VCAT)to get the dispute resolved.
At New Home Building Inspections we have extensive experience in helping home owners prepare for both these dispute resolution options. This experience extends to being Independent Expert Witnesses at VCAT.
Our vendor report provides you with detail of any major defects that your home has. As a result you have the choice of rectifying them before you put your house up for sale.
A vendor report can also be used as a pre purchase inspection report by the prospective buyer as part of the selling process.
Our rates start from $350 (inc GST)
A maintenance report provides you with information about any major defects and safety issues your home may have. The report lists out the work that needs to be done so there is no further deterioration.
Your maintenance report will give you confidence that your home is safe for both you and your family.
Our rates start from $350 (inc GST)
Resolving Building Disputes Through VCAT
If you find yourself in the unfortunate position where you're in a dispute with your builder or the owner of a property, you may be able to take your dispute to VCAT to have it resolved. Here are the steps involved: Domestic Building Dispute Resolution Victoria (DBDRV) It is surprising how often we find the …
Why Trust New Home Building Inspections
Member of Master Inspector Association of Australia

Registered Builders & Inspectors

Licensed with the Victorian Building Authority

Completely independent Building Inspectors

Fully insured

Reports within 24 hrs

Over 30 years experience

Thermal imaging available

Qualified Timber Pest Inspectors

Cert IV - Building Construction

Cert IV - Occupational Health & Safety
The New Home Building Inspections Difference
We understand that buying a home is likely to be the biggest investment you will make for you and your family. The last thing you need is to buy a home and then find out soon after purchase that it has defects. Even worse, the defects require a lot of costly repairs.
Most people are not aware that in Australia, the general rule is 'buyer beware' when it comes to the sale of houses. This means that sellers are not obligated to let you know about even serious issues such as terminate infestations and structural issues. Check out our gallery for the many examples of common defects we find we do home inspections.
Every home is different. That is why we take the time to provide a customised inspection report that is easy to read and understand. It is also professionally written to Australian standards.
We are fully independent and not affiliated with any Estate Agents. Our only purpose is to provide you with an unbiased report. That's why we have so many Google 5 Star reviews!
Whether you are buying a brand new home, an existing home, bidding at auction or thinking of buying an investment property you can trust us. This is because we have the knowledge, skills and experience so you know what you're buying!