House Frame Inspections
---
House frame inspections are undertaken when the wall and roof frames have been completed for a new home build. At this stage, a Building Surveyor is appointed by your builder to do an house frame inspection. Usually a Building Surveyor takes only 10 to 20 minutes to do an inspection. This means it is quite common for major house frame defects to be missed.
That's why we always do a thorough and independent house frame inspection. It is the only way to make sure there are no defects. This is especially true as a house frame can have many different types of defects. Some defects are costly to fix if they are not rectified straight away.
All house frames must meet the standards set by the Australian Standard AS 1684.2-2010 – Residential Timber-Framed Construction Non-cyclonic areas. The standard is in four parts. It covers design criteria, building practices, tie-downs, bracing and span tables for timber frames.
Phone 1800 466 424, send us a message via our contact page or send an email
There are many things we look for when we do a house frame inspection. As we have been doing new home inspections for many years, throughout Melbourne, we know what to look out for!
Our House Frame Checklist Includes:
Walls plumb and straight
Bracing on the wall frame has been done correctly
Frame correctly placed on slab
Concrete slab – especially for exposed steel as well as overhang or excessive cracking
If required, we test the strength of the concrete
Roof truss installation and bracing has been done correctly
Plumbing and drainage penetrations
Fascia and gutter (only if installed at this stage)
Window installation
Door openings
Termite barrier
Engineer's drawings to make sure the as-built structure is compliant
Overall check of quality of workmanship
Phone 1800 466 424, send us a message via our contact page or send an email
The following are just some of defects we find when we do a frame inspection:
Concrete slab extension non compliant. Requires Engineer's report.
Excessive check out to framing timber.
Concrete slab vibrates and not compacted correctly.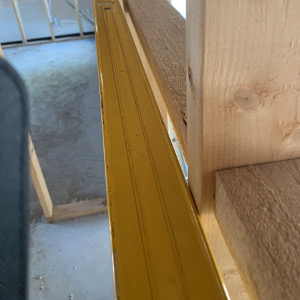 Checking walls with spirit level.
Top plate to wall frame not straight. This will look very bad at plaster stage if this defect wasn't detected.
Checking walls with spirit level.
With our detailed frame inspection report you will be able to negotiate with your builder in a strong position. This will make sure that you end up with your new home being the standard you have paid for. Remember – it is much easier to get defects and faults fixed before you move in.
Our fees start at $300 (inc GST) and our reports are available within 24 hours.
The other types of new home inspections we do include:
No matter what stage of build you are at for your new home, we can provide an inspection. This way you will ensure everything is being built to Australian standards. You will know what you're buying and have peace of mind.
Contact Us Today!
---
Phone 1800 466 424, send us a message via our contact page or send an email